De verre et d'acier
"Glass and Steel"
48x16 mixed media on canvas
$2150.00
---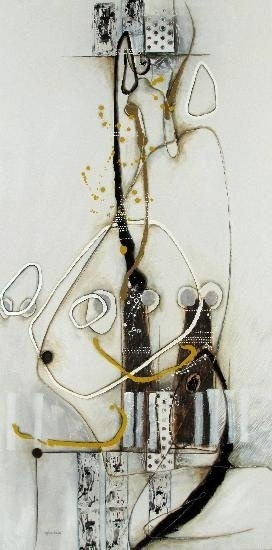 Savoir bien s'entourer
30x60" mixed media
---
Unlike many artists, who theorize before picking up a brush, Sylvie Cloutier prefers to just do and let her natural instincts guide her. She believes in drive and spontaneity, accepting that the materials may wish to express something too.
Over the years, theory or rather certain similarities, e.g., the use of shape, colour or transparency, have left a coherent, well-defined corpus.
Sylvie always begins with a geometric approach - the rational side of her personality. However, at this stage, Sylvie's work resembles collages rather than sketches. There is texture, an architecture of sorts. As she once said in an interview, the architecture in her art starts with a drawing but is overtaken by the poetic side of her personality. Like a puzzle, the pieces finally come together in one painting. Throughout the process, there is a tension that the artist herself struggles to describe. In order to retain this tension, she works vertically, that is, she stands in front of the piece that is lying on the ground.
A form takes shape, an "icon" is revealed before her very eyes. Spontaneity requires a special medium which explains Sylvie's preference for acrylic paints that dry quickly.
There is a surge, but in the creative fireworks, drippings soon follow. As a result, her art exudes tremendous emotional intensity in which discord merges with harmony as if inspired by an inner music that haunts the studio.
Cloutier's art seems like an elegant dance yet there is something monumental about it, too. Current or future owners of Sylvie cloutier's paintings will no doubt agree."
J.-C. Leblond magazine'art summer 1999
CURRICULUM VITAE
Études
1983 – 1984 Cours en arts d'impression UQUAM – Faculté des Beaux-Arts
1979 – 1980 Certificat en pédagogie – Enseignement des arts au secondaire –
Sciences de l'éducation – Université de Montréal
1976 – 1979 Baccalauréat Fine Arts – Université Concordia - Montréal
1974 – 1976 Diplôme d'études collégiales (DEC) en arts plastiques – Cégep du Vieux-Montréal 1985 Ateliers de monotype avec Mme Guitta Caserman-Roch - Montréal
1972 – 1973 Diplôme peinture – Éducation des adultes – Ministère de l'éducation – Saint- Hyacinthe
1969 – 1972 Diplôme Jeunes Artistes – Famous Artists School – Westport – Connecticul USA
Expositions SOLO
2004 Centre socioculturel de Brossard – Galerie Renée Blain
2003 Centre culturel de Beloeil
2002 Galerie Michel-Ange (Vieux-Montréal) – Montréal ; duo avec Mme Nicole Foreman
2002 Galerie Artazo – Sherbrooke ; duo avec Mme Denise Custeau
2002 Galerie Le Rucher d'art – Saint-Hubert - Montérégie
1999 Le Commensal du Musée – Côte-des-Neiges - Montréal
1998 Maison des Arts et de la Culture du Haut-Richelieu – Saint-Jean-sur-Richelieu
1997 – 1998 Le Commensal – Greenfield Park - Montérégie
1996 Café Passion – Saint-Lambert
1995 Centre socioculturel de Brossard ; duo avec M. Mario Cournoyer
1984 – 1992 Centre d'arts Le Vieux Presbytère – Saint-Bruno-de-Montarville - Montérégie
1991 Galerie Léonard de Vinci – Sainte-Julie
1990 Galerie Quatre Saisons – Vieux Québec – Québec
1990 Maison de la Culture Mercier - MOntréal
1989 Fédération des Caisses d'économie – Anjou - Montréal
1987 Clinique médicale Ville-Émard - Montréal
1985 Galerie Le Balcon d'Art – Saint-Lambert
Expositions de groupe
2001 – 2004 Centre d'art Arts Station – petits formats + performance – Saint-Hilaire
2002 Symposium du Haut-Richelieu – performance publique - Iberville
2001 Événement village de Frélishburgh – Cantons de l'Est
2001 Musée Vaudreuil – Soulanges – « Printemps en art »
2001 Galerie Artérium - Chambly
2000 Musée de Saint-Hulaire – Hommage à Leduc, Borduas et Jordi Bonet
2000 PASSART – Expo passage 1999 à 2000 – Centre d'expo Rouyn-Noranda
1999 – 2000 Lancement Agenda Parcours + Expo Printemps – Galerie Michel-Ange - Montréal
1999 Expo « Éloge à la vie » - Centre socioculturel – Saint-Bruno-de-Montarville
1998 Lévesque, Beaubien, Geoffrion (Courtiers valeurs mobilières) –
Ouverture officielle succursale St-Jean-sur-Richelieu
1998 Centre Vision des arts - Montréal
1997 Maison de la Culture de Gatineau – Expo internationale « Masques »
1996 Diabète Québec – Artiste et membre du comité organisateur - Brossard
1995 – 1996 Centre de recherche en informatique de Montréal (CRIM)
1995 Croix-Rouge – Hôtel de Ville - Repentigny
1995 HMV Music Canada – Performance - Montréal
1994 Événement « 20-20-20 » -Galerie du Centre- Saint-Lambert
1994 Expo Édifice Sun Life – Conseil de la peinture du Québec - Montréal
1993 – 1994 Fondation Hôpital Charles-Lemoyne « L'Espace à voir » - Greenfield Park
1993 – 1994 Galerie de Bougainville - Montréal
1993 Galerie Mayrand – Mont-Laurier - Laurentides
1993 Hôtel de Ville de Boucherville – Levée de fonds – Maison 4 poches
1991 – 1993 Galerie Maxan – Collectif et performance publique – Saint-Marc-sur-Richelieu
1991 – 1993 Galerie Claude Brocard – Prévost - Laurentides
1992 Musée Vaudreuil-Soulanges - Vaudreuil
Artistic presentation
Without prelude, without any preconceived ideas, I instinctively create an image. Spontaneously, I follow the preceeding movement and apply it. Unconsciously, I know that I don't question myself too much. What you see must be presented as the result of a process of artistic progression expanding almost 15 years.
At first glance there seems to be order in my work. Geometric forms are indeed aligned, they position and structure themselves, but it's to better receive the motion, the impulsiveness of a thrown lacquer at the top of the image or of a fine line winding its way down a long rectangle, well secured at the bottom of the art piece. I cannot disassociate this part of me that organizes, disciplines, takes position….at the same time there is this side of my personality that moves, splashes, acts casually without thinking too much of the consequences.
The vision I have of objects, animals, people, even of daily events, translates artistically in entirely non-figurative images. Kandisky, Miro fascinated me with their approach of forms in spaces, I was also inspired by Paul Klee when I was a young student of arts, his subtlety, his colors, his nuances, the randomness of his mixes…. Collage, the papers…I unearth all kinds. I tear them, arrange and glue them , forming a delicate structure of my conception, the starting point of my creation.
I favor collages for the purpose of structuring and bringing to order with simple forms like circles, squares, rectangles. From this arrangement, I immediately envision what will follow.
The space will be inhabited by a balance of strong structures and subtle organic forms. I want strength and flexibility, the fluidity coexists , always looking for visual balance. Movement is important, I don't wish to present a stagnant or immobile creation. I am too alive. I try to propose an image where the observer takes part, where he almost has no choice but to follow the path and go forward, to go towards the top…the left.. the center, where his view will catch according to the clues. He can't stay indifferent, the colors will guide him.
Unconsciously, all the works that I create have the same conclusion; towards the top of the painting there are multiple of little spots, a rainfall of starts or an assembly of pebbles which will help us to find our way. Regardless of the definition given it always appears in my productions, I cannot deny it and I will give it the overtone "HOPE".
---