Normand Boisvert
Price range: $1500-7500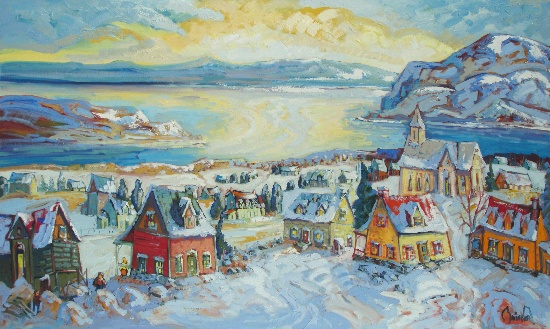 Lumirere hivernale au Village des Eboutements
36x60 oil on canvas
$5500.00
---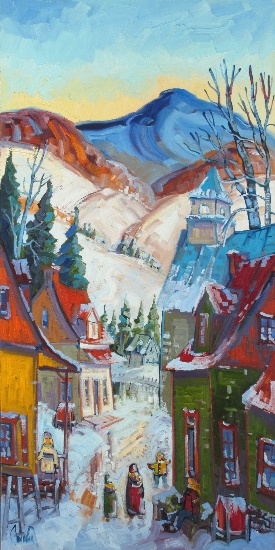 Une premiere bella journee d'hiver
oil on canvas 24x48"
$3600.00
---

Une histoire de familie Charlevoix
24x60 oil on canvas
$4500.00
---
---
Born in the Trois-Rivières, Quebec in 1950, Normand Boisvert is an artist passionate about the land. Primarily self-taught, Boisvert has been painting, exhibiting and teaching for over 30 years.

With a swirl of colour and texture his oil paintings evoke an emotional response. The movements of his brushstrokes echo the flow of the rivers and hills so close to his heart. His images are laden with paint, transforming the flat canvas into an almost sculptural depiction of the Quebec landscape.
His work is represented in several galleries in Canada, the United States and Europe and can be found in several private and public collections, including the Royal Currency collection of Canada and the museum Pierre Boucher of Trois-Rivières.


SOLO EXHIBITIONS
2003,-2001-1998 Stephen Lowe Gallery, Calgary
2003-1997-1998 Galerie Perrault, Quebec
2000 Moulin Seigneurial de Pointe du Lac
1998 Echo Diffusart, Ottawa
Relais des Époques, Montreal
Musée Pierre Boucher, Trois-Rivières
Rendez-Vous Gallery, Vancouver
1993 Centre Culturel, Trois-Rivières
Galerie d'art, Ottawa
1991 Galerie Gala, Trois-Rivières
1989 Centre Culturel, Shawinigan


GROUP EXHIBITIONS
2009 Gallery on the Grand, Kitchener, Ontario
1999, 1990 Echo Diffusart, Ottawa
1998, 1997 Stephen Lowe Gallery, Calgary
1998, 1996 Galerie Livernois, Quebec
1998, 1995 Galerie Perrault, Quebec
1998, 1990 Relais des Époques, Montreal
1998 Musée Pierre Boucher, Trois-Rivières
Rendez-Vous Gallery, Vancouver
Cristallis Gallery, New York
1993 Galerie L'Heureux, Trois-Rivières
Galerie Martin, Florida
1988 Musée Pierre-Boucher, Trois-Rivières


BIOGRAPHY
Boisvert, l'homme, l'artiste, Gaston Therrier ed., 1998
Boisvert, Claude Marcouiller ed., 1993
Un peintre en Mauricie, Claude Marcouiller ed., 1979


COLLECTIONS
S.K.W. Germany
Hydro-Québec
Bell Canada
Ville de Châteaudun, France
Canadien Pacifique
Imperial Tobacco
Oerlikon
Nabisco Corporation
T.F.I., France
Red Deer, Alberta
Royal Canadian Mint
CN Facility Management

MUSEUM
Musée Pierre Boucher, Trois-Rivières
---

Previously sold works