Custom Framing and Photo Printing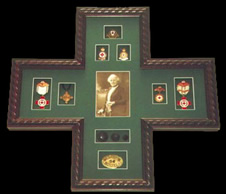 At State Of The Art Gallery custom means It's truly your own, our design conscious approach considers your personal style, architecture, function and budget. From clean lined modern, classical, ornate or a sophisticated combination of styles. Listening to you is the first step in ensuring your collections splendor.
Creating your vision using the finest quality materials is our passion. All work is executed on the premises by skilled and conciencious craftsmen. We take pride in our work and it shows.
Specialty Object and Memorial Framing
Creatively designing unique displays for your special memories is very rewarding to us, have a look at some of our original desiign ideas
We now print your photographs from digital to steamline the framing process and can offer a range of substraits including aluminum plexiglass canvas as well as fine quality Canon papers and our expertese will help you select the right look for your images.
All artwork on this site is protected by copyright, unauthorized reproduction of any kind is prohibited. Please respect intelectual property.